Intermediate School
This project began with an extensive study of the school community. Meetings and surveys were conducted to benchmark the educational delivery methods in place now and where they saw themselves 20 to 50 years into the future. They were also asked to consider how the facility itself helped or hindered that educational process.
The District took this opportunity to effect change in a positive and meaningful way, not only as a School District but as a community. The result was a commitment to change to a grade center model, clearing the slate for the District's new educational paradigm. No stone was left unturned in the evaluation of the District's facilities and exploration of the District's new and evolving educational needs. This is a unique and exciting opportunity for everyone involved to really make a positive impact in the lives of the kids, help to shape the way in which they will be educated in school and how they will function as citizens of the larger community.
The outcome of this process led to the full renovation of an existing elementary school into a newly transformed learning environment serving the intermediate grade levels (second, third, fourth). The resulting spaces are designed to foster the 21st-century education principals of collaboration, communication, creativity, and critical thinking.
The completely renovated new intermediate school is designed to support the unique learning processes of individual learners in a concert of spaces that meet the needs of varied learning styles and multiple intelligences.
Project spaces that support project-based learning are a feature of elementary school architecture throughout. Almost every large group learning room connects directly to a small group break-out space where focused work can be accomplished. The large group learning rooms also have adjacencies to an open project space where project-based learning can happen.
Teachers and students both have seamless access to technology, with moveable smartboards in the large group learning rooms and projectors they can broadcast to in the project spaces. Additionally, Magnetic Dry-Erase Walls and Tackable Surfaces promote opportunities to put learning on display and allow learning to happen anywhere.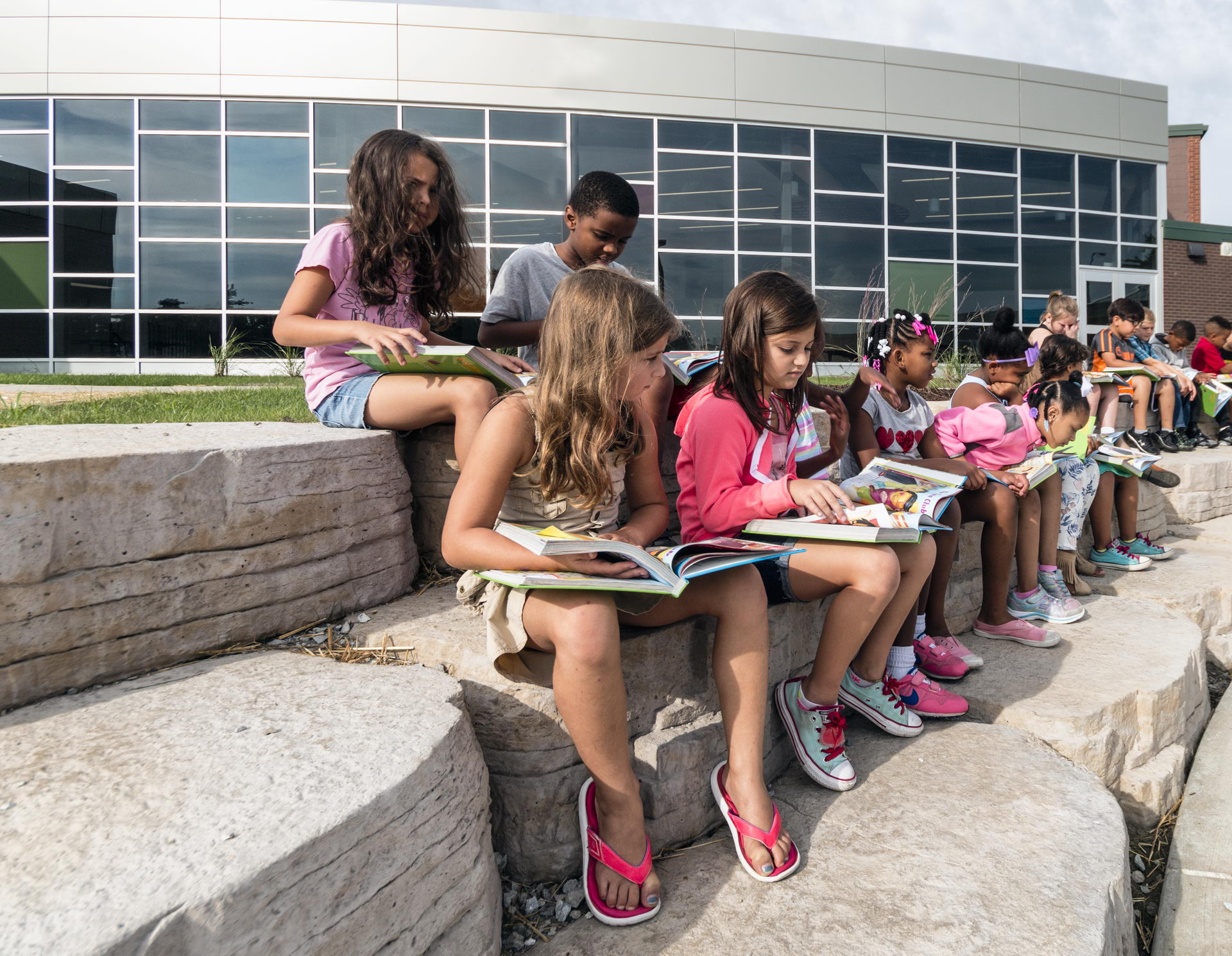 A key concern of the client was that the new elementary school architecture provide a safe, calm and de-escalating environment for all children. This was a natural fit for the design concept of biomimicry (the imitation of systems or elements of nature), which is employed throughout the interior design. The learning environment strives to incorporate a balance of all colors in the spectrum in order to meet the unique emotional and physiological needs of each student. Color is used as a tool for wayfinding as well as an indicator for destination. 5 learning nests, a playful term in response to their cardinal mascot for a cluster of learning spaces that support small and large group collaboration, are each identified by a specific color and provide a sense of ownership to the different constituents of the school. Community spaces (ie Media Center, Cafeteria) are spaces that incorporate all learning nest colors.
Flexible furniture and soft seating allow learning environments to quickly adapt to accommodate different learning styles and to transform a space to meet the needs of learners of all ages.
The green and sustainable elementary school architecture incorporates natural light and views for all learning spaces. In addition, connection to the outdoor environment (man-made and natural) and transparency to the community are a magnet for neighborhood families seeking an education setting that supports and inspires learning in the 21st Century. An outdoor amphitheater located adjacent to the new Cafeteria space becomes an extension of the indoor learning environments. Project spaces, a key element of the learning nest to support project-based learning, feature high ceilings and an abundance of natural light. Motion-sensing LED lighting is used throughout.
Other stunning projects for our amazing clients