New Early Learning Center: First Steps Preschool
The New Early Learning Center is child-centered and nature-inspired. The research-based, developmentally appropriate curriculum, with a strong emphasis on language, motor skills, social independence, and pre-kindergarten skills, dictated the experiences the children would encounter within the design. With a focus on play-based learning, children move through varied types of learning settings designed to specifically support different aspects of holistic child development.
"Throughout the design process DLA has listened to our concerns, sought out feedback, and responded quickly to our requests."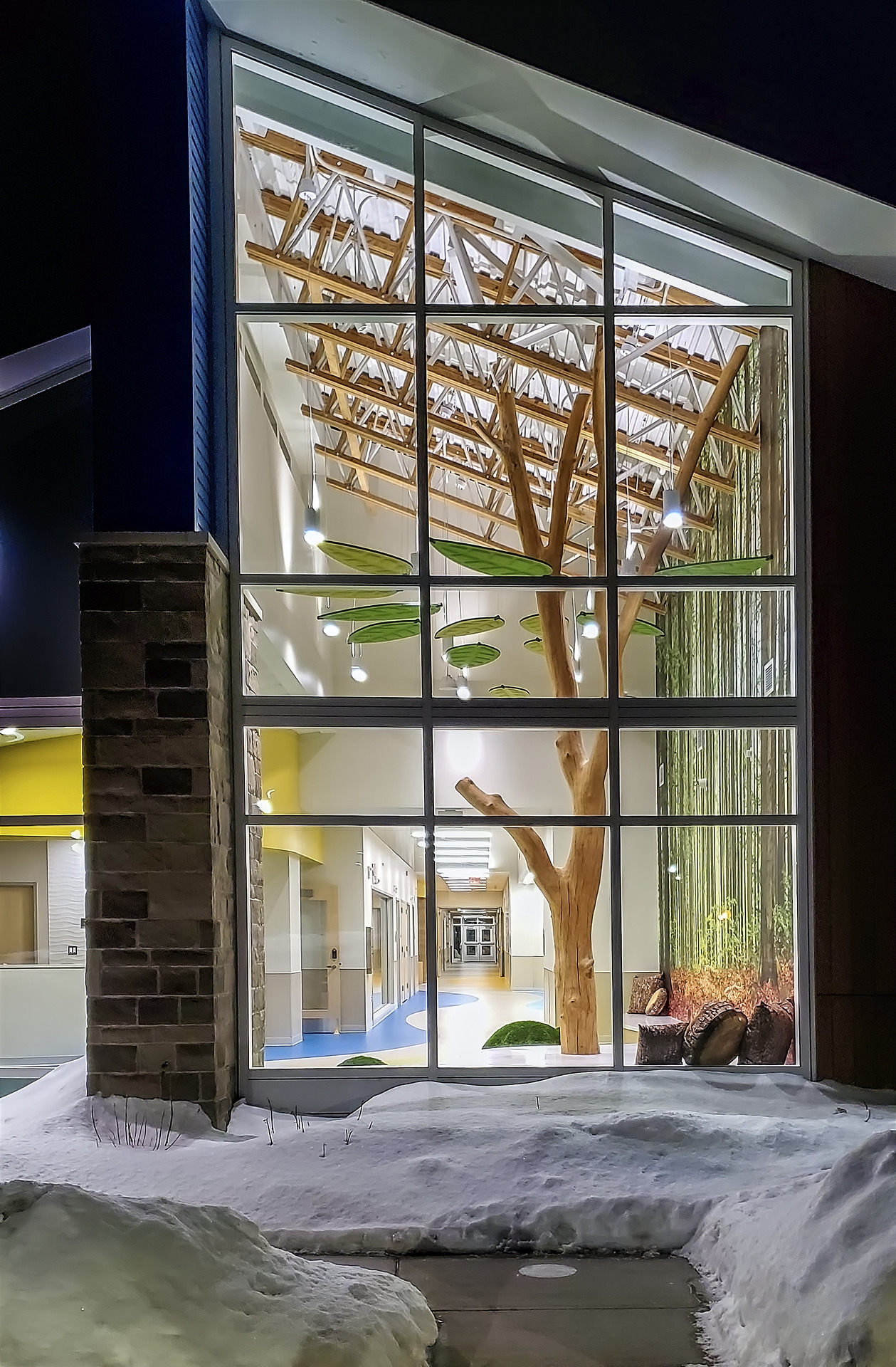 "DLA was very mindful of our budget every step of the way, advising us on different design options to reduce costs while still achieving the design goals of the new space."
Child-Centered
This innovative, new 40,000 square foot Early Learning Center provides 14 Pre-School Learning Studios, STEM, nutrition, and active play Learning Hubs, a Gross Motor Skills Room/Storm Shelter, and support spaces.
The four shared Learning Hubs are key to this experience-based program. Each environment is tailored the learning activities it will host.
The "Imagination Station" is a library-type space. It provokes inquiry and exploration. To facilitate active learning, there is a puppet theater house at one end of the room and a stage platform at the other.
Young children are exposed to STEM concepts in the "Tinker Lab." It provides the environment for them to make sense of problems and work to solve them. This large, flexible space is the place for children to utilize tools like blocks and shapes to design and construct.
Health and wellness are the focus of the other two hubs. Children learn positive attitudes towards food in the nutrition-focused "Make It Market." Large motor development is important to the growth of a young child. The "Fitness Factory" is designed to support both structured and unstructured physical activity.
Nature-Inspired
Further supporting wellness, biophilic design is woven throughout the building. The entry sequence which begins on a wooded path with a real tree, supports emotional safety and sets the tone for the learning experience. Throughout the interior curvilinear pathways mimic the movement of a river. Dramatic sloped ceilings (some exposing a wood structure) provide natural light and mimic the experience of walking through the woods.
Energy Efficient
Strategies such as geothermal heating and the building envelope design provide a calculated energy cost savings of 47% compared to a baseline building.
Other stunning projects for our amazing clients